Gloria Edwards is a native of North Carolina and its beautiful coastline and surroundings. It is known to be home to a cotton industry and large vast of denim brands and mills. She ventured from the East Coast to come to Hollywood, CA for its glitz and old historic Hollywood glamour. Gloria earned her degree from the Fashion Institute of Design and Merchandising in Los Angeles.
Prior to having a formal education, she had already practiced her knowledge and skills as a teenage girl she was making patterns, cutting, and sewing. After moving to Los Angeles at the young age of 25 years old, she found how cutthroat and expensive endeavoring a mission in the fashion industry really is and how the saying of "selling your soul" really seemed valid. Upon completing her degree in fashion design, she was left with a $70,000 bill and was forced to hustle in the fashion district of downtown Los Angeles.
Gloria earned her reputation as a top fashion name in Los Angeles because she has worked with some of the best brands in Los Angeles, which has proven over and over how wide range her expertise is in the fashion industry, from manufacturing the goods to distribution of the final garment. Some of her past work experiences include working in design departments for labels: Clothing for Modern Times, Designer at Guess by Marciano Inc., Kik Wear/ Greed/ Rank, Morphine Generation, Ed Hardy by Christian Audigier,Vince, City of Angels, and Band of Gypsies just to name a few.
As a fashion designer, Gloria believed that her job was not something that she wanted, but something that she was born to do. When asked about the things that have inspired her to be a fashion designer, she cites an endless list, which includes travel, books, photographs, music, and friends among other things. She realizes the worth and how true the saying is that "a picture is worth a thousand words".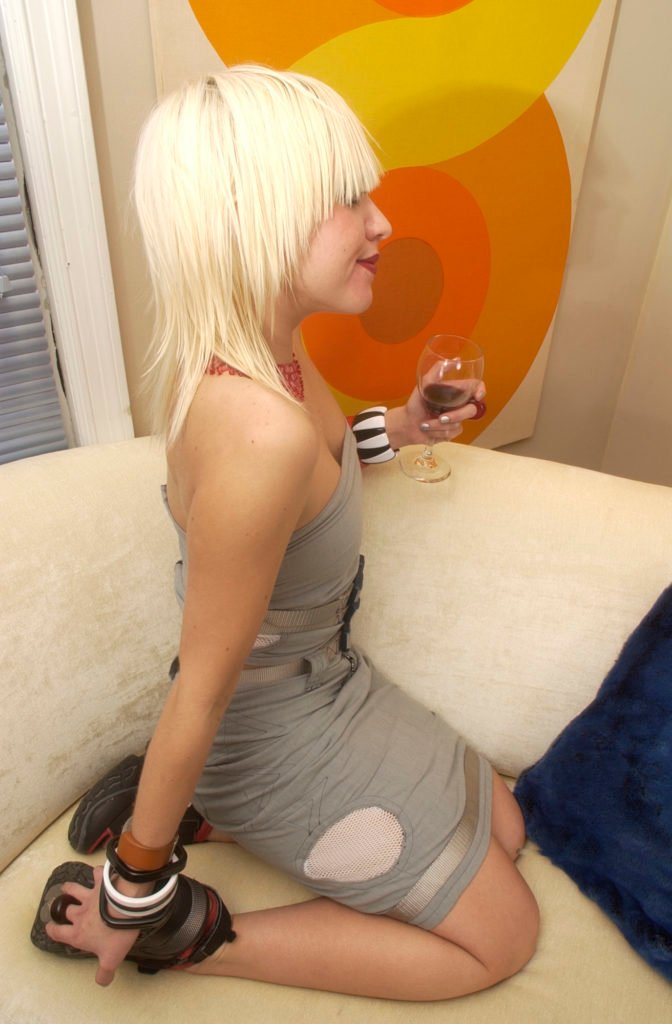 When asked about her favorite designers, some of the names she included are Rick Owens, Betsy Johnson, Issey Miyake, Kenzo, Jeremy Scott, Alexander McQueen, Balenciaga, and Versace, among others. She states that some items she would hesitate to live without would include Cheap Monday jeans, power shoulder jackets, some Unif tees and MAC cosmetics.
During Los Angeles Fashion week while exhibiting her clothing line in Hollywood, CA at the Vanguard night club, she had a team of MAC cosmetic employees do the make up for the event. She has worked with numerous international and local make up artist that seem to give each look for photo shoots a definite style that is known to push the envelope with a bit of edge. Her inspirations provided her with unique ideas for make up for each photo shoots along with collaborating with other make up artist who have their own flare.
As a recognized fashion designer in Los Angeles, her work is often described as haute, dark, chic, and edgy. They have been strutted on red carpet events, photo shoots, music video, band touring, and on the runway. Many of her exquisite designs of her work have gained attention from others because of her use of exotic vegan materials and embellishments. Her unusual selections of materials in her creations have made her a more popular name in the fashion world.
She has dressed numerous musicians in her designs for bands such as Mea, AKA the lead singer of Lord Of Acid for her US tour, The bass player from Paradise Kitty which is a Los Angeles based all female cover band covering Guns and Roses, Slunt, and recently was asked to design for famed Mikey Sembello's Greece tour (otherwise known as She's a Maniac lead singer from the 80's and Flash Dance). She can be booked months or weeks in advance for couture made garments for an event.
As a known fashion designer in Los Angeles, Gloria gave some insights that can help people who are determined to make a name for themselves. One advice she has is to start young, as this will nurture your creativity. Fashion designing is a skill you continuously learn, and it is better if you start early.
She also advised people to be courageous, especially because the fashion business can be rough, especially for starters. Gloria also emphasized the need to surround yourself with good people who want to see you succeed which can be hard in this competitive field.
For viewing her designs and contact information for booking Gloria, please visit links below:
https://www.facebook.com/Gloria-Edwards-Couture-100900536670202/?ref=bookmarks